Italy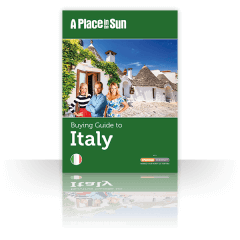 There's so much to love about Italy; picturesque scenery, great food, traditional properties and its style. For many of us it is the dream place to own a place in the sun.
Our essential guide to purchasing a property in Italy contains all the information you need to help facilitate your purchase. It covers everything from key buying hotspots, what to expect during the purchase process, successful case studies from British buyers and more on life in Italy post-purchase.
This is in addition to key legal, finance and tax advice and how using A Place in the Sun Currency can help you save costs on currency transactions.