Viewing Trips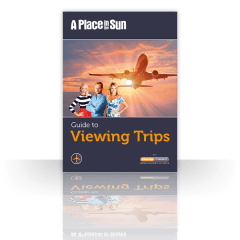 When buying a property abroad it's important you arrange to visit properties in the locations that interest you to see what's on the market and speak to estate agents in the area who can help find what you're looking for.
Firstly you need to find a few examples of properties that interest you and enquire on them – try searching on aplaceinthesun.com to be put in touch with agents on the ground. Some of these agents offer subsidised trips to visit their properties or you can organise your own trip to visit properties from any number of agents, but whatever route you go down you need to know how to make the most of a viewing trip
Download our free guide to viewing trips with information on:
What a 'viewing trip' is and what to expect
Key dos and don'ts on a viewing trip
How to properly prepare – including financial and research tips
Case studies from buyers
Download now and receive a copy of this guide sent directly to your email address.